Welcome to the QR-Tour!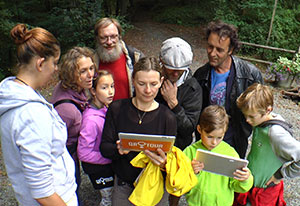 Thank you for downloading the App QR-Tour Bad Berneck & Goldkronach. Are you ready for an adventure? The entire content of the QR-Tour is already on your tablet — and you do not need any further Internet connection to go on this unique treasure hunt.
However, the content is not completely unlocked, and it won't be until you have scanned in the QR code at every point.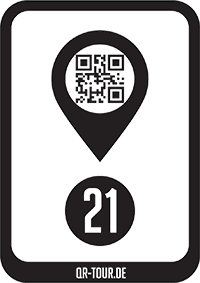 You can start your search once you have arrived in Goldkronach or Bad Berneck: Find all 31 QR signs which are dispersed across the two towns.
This way you are collecting an interactive travel diary, which you can keep as a souvenir and share with friends and family when you get home. With the right cable, you can even show the QR-Tour on your television or with your projector.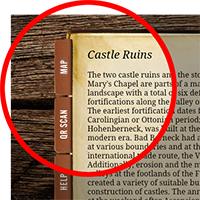 This is how it works:
On the left-hand side you'll find the tabs for the functions of the QR-Tour: scanner, help page, map, etc. The tabs on the right-hand side will give you access to all the content of the specific location you are visiting.
START
Choose between Bad Berneck and Goldkronach, depending on which town you are visiting first. At the bottom of the page you can switch between the languages of English and German.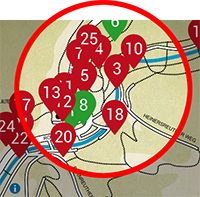 MAP
A map of the selected town shows the approximate locations of the QR-Tour signs. Use your fingers to zoom into the map for more detail.
At the start of your QR-Tour, all points on the map are red and the content is inaccessible – but after scanning the codes, the points change to green and the pages are unlocked, making it easy to tell which points you have visited. You can either look at it all on location, or enjoy the content later at your leisure. Tap the green point to re-visit the location.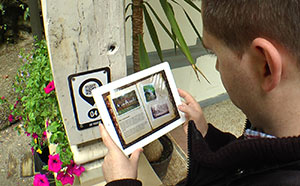 QR SCAN
When you find a QR-Tour sign on your hike, use the inbuilt scanner.
Just hold the tablet and frame the QR-Code, and information about this point now appears automatically on your tablet.
You can access the scanner directly from the MAP page.
CREDITS
Information about the team behind the QR-Tour, the contributor acknowledgements, and the sponsors of this European pilot project are found here.
HELP
Welcome- and Help Page. This is where you are right now.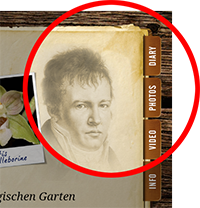 INFO, DIARY, VIDEO, PHOTOS, ART, SPECIAL, EVENTS, SOUND, VOICES
Via the yabs on the right-hand side, you can explore the various contents – depending on the QR point, there will be different tabs.
Be surprised by the variety of entertaining media and texts.
On many pages, you can scroll down to reveal more information.
Click on the pictures in the photo galleries – they are in HD quality and are zoomable.
Use your fingers to enlarge them.
To leave a picture gallery: use the back button (on Android) or tap the white area in the top left corner (on iPad).
Enjoy your walk – we are looking forward to your feedback on facebook.com/qrtour